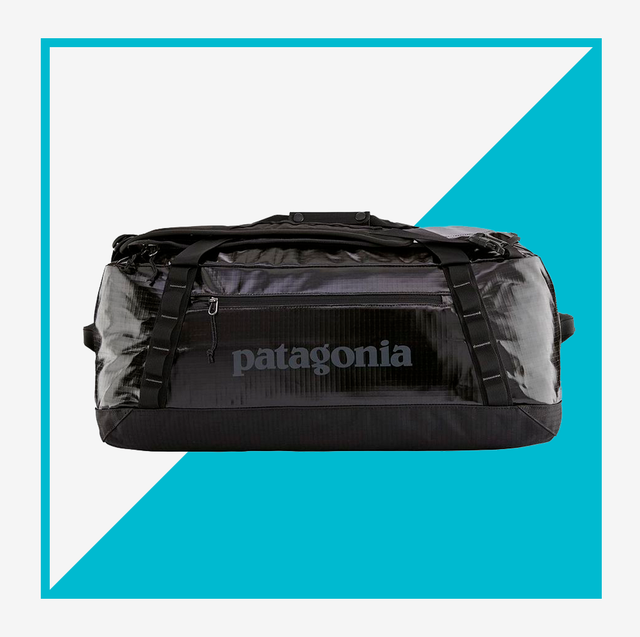 Assorted retailers
Time can feel like a luxury some days, but finding time to hit the gym is necessary for both your physical and mental wellbeing. When your day is jam-packed with work and social obligations, your best bet for squeezing in your daily fitness routine requires a gym bag that can hold all your gear, without looking like a total eye sore while out and about.
Sure, any duffle bag or backpack can conceal your sweaty gym clothes, but the best gym bags have multiple compartments to organize everything you'll need during your day, and separate your running sneakers from your laptop and workout headphones—because let's face it, that's just gnarly. And the exterior is just as important. Your gym bag should have a stylish, versatile look to double as a weekend bag with durable fabric that can handle the heaviest load.
Where does a guy find this perfect fitness carryall? Lucky for you, we rounded up the best gym bags for men at every budget, so you can work on your gym gains with all the gadgets and gear you'll need—no sweat.
GR11000D Slick 26L Bag
Don't let the minimalist exterior of this backpack fool you. Inside you'll find ample space with multiple compartments for everything, from your 17-inch laptop to your smart phone charging accessories.
Supply Co. Packable Duffle Bag
This affordable gym bag might not have a ton of features to it, but it will save you space in your home, thanks to its collapsible design. Throw it in your suitcase for travel and break it out for gym sessions when needed.
The ReNew Transit Backpack
Sleek, affordable, and highly functional, this backpack is just another reason to love Everlane. Plus, it's made of 100% recycled polyester.
Graphic Duffel Bag
Looking for a gym bag that'll actually last? This classic gym bag has a lifetime guarantee to prove its durability for your daily gym sessions year-after-year.
Read more: Best Duffel Bags for Men
Flyweight Duffle Bag
Proof that a durable gym bag doesn't have to be hefty, this option with ripstop nylon fabric can hold your heaviest gear, without weighing you down as you make your daily moves.
Ion Weekender
This minimalist gym bag has a separate shoes compartment, so you can easily store your dirty gear and keep your fresh fits squeaky clean for a sleek post-workout flex.
Read more: Best Weekender Bags for Men
Core Large Duffle Bag 2.0 38L
Getting motivated to hit the gym on rainy days can be tough, but when you do finally decide to brave the bad weather, this Lululemon gym bag will protect your gear with a water-repelling exterior.
Bleecker Duffel Bag
MZ Wallace's first menswear collection offers six essential bag styles for every guy's needs that combine high style and superior function. For the man with daring style, this blue camo stunner is a standout choice for both the gym and weekend getaways.
Black Hole Water Repellent 55-Liter Duffle Bag
Why choose between a duffle and a backpack when you can have both? Patagonia's best-selling black hole bag is the convertible you always wanted that doesn't require a driver's license.
Travel Pack 2
A standard briefcase can't compete with this sleek backpack that separates your most precious gear from your dirty gym shoes. From weightlifting to working 9-to-5, this gym bag has you covered.
Custom Tuck Backpack
Timbuk2's best-selling roll-top backpack can now be customized to show off your personal style and carry all your gear with a lightweight feel.
Classic Barrel Bag
Just like your cool retro sneakers, kick it old school with your gym bag for a stylish option that works with just about anything in your closet.
Novel Duffle
This stylish gym bag comes with a a separate shoe compartment to provide a barrier between your dirty gym gear and your expensive electronic devices.
Landon Carryall Bag
It's like a gym bag made out of a wetsuit. The neoprene fabric makes this gym bag lightweight, durable, and stylish to tote.
Franklin Weekender
Sure, this gym bag is a great option with multiple compartments (including one for your shoes), but it's also a great purchase that gives back to kids in need. As a benefit corporation, STATE donates bags and creates activations with charities and schools, so you know your hard-earned dollars are being well spent to look good and do good, too.
Lightweight Portable Foldable Backpack
This is the best bag on this list for traveling and trekking for any commute condition. It's a backpack made from water-resistant nylon that easily folds up to fit in the palm of your hand. Plus, there are added pockets for all your daily necessities.
This content is created and maintained by a third party, and imported onto this page to help users provide their email addresses. You may be able to find more information about this and similar content at piano.io