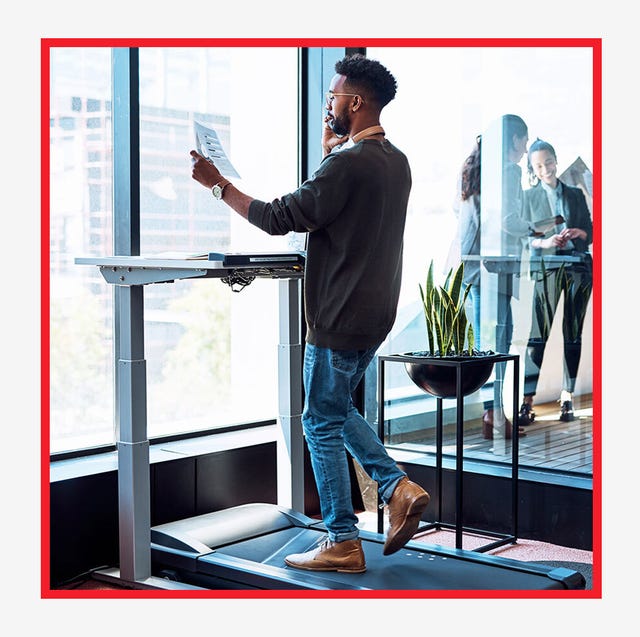 Courtesy of Retailer
With many of us still working from home instead of heading into the office, you may be moving or walking less than normal. According to the Mayo Clinic, the average American was taking 3,000 to 4,000 steps each day pre-COVID (which is probably lower than ideal). For anyone who spends their days stuck at a work station, an easy way to get moving while working from home is by investing in a treadmill desk.
Read more: Best Treadmills
And with the common trend of hitting 10,000 steps a day still a goal for many of us, this will definitely help to get you there. There are about 2,000 steps in a mile with an approximate stride length of about two feet, according to Colleen M. Brough, PT, DPT, MS, board certified orthopedic clinical specialist and director of Columbia RunLab at Columbia University. And according to the American Heart Association, they recommend 30 minutes of exercise each day for cardiovascular health—which translates to about 1.5 miles of walking. So walking and working will help you reach those activity guidelines. So if you're looking to add a treadmill desk to your work-from-home setup, we researched 5 of the best options that will help you reach your step goal and get in your cardio.

The Best Treadmill Desks to Buy Now
Under Desk Treadmill
This desk treadmill is an affordable option with lots of cool features. It has a Bluetooth speaker that you can connect to to blast your jams or podcasts. It tracks speed, calories, time and distance. Speed ranges from 1 to 6 kilometers per hour and can be adjusted by a remote control. It's also ultra-slim and has two moving wheels at the front for easy transport.
Read more: Best Home Office Essentials
Goplus 2 in 1 Folding Treadmill
This folding treadmill has five layers of non-slip texture for plenty of cushion and support, as well as removable handles. It also has an LED display with a phone holder that shows time, speed, distance and calories. You also can connect your music to Bluetooth to keep you motivated.
Read more: Best Standing Desks
2-in-1 Folding Treadmill
You can use this under desk treadmill to really get in a good workout. The speed ranges from 0.6 to 7.5 mph so you can really get in a good run. It has an LED display which you also can connect the treadmill to your phone through the Fitshow lite app which monitors your fitness data while you are exercising, and has a remote control to adjust the speed.
Under Desk Treadmill
This simple under desk treadmill tracks your workout by time, distance, speed, and calories. This treadmill is low-maintenance because you only need to add lubricant into the oiling position, so no messy, manual work needed. Bonus: this treadmill requires no assembly. Simply plug it in and get walking. It's super slim and easily can be stored in a closet, under a bed, or sofa. The motorized treadmill belt has a seven-level elastic running platform that is anti-skid and shockproof.
Portable Treadmill with Foldable Wheels
This smart treadmill has six speed options, with a maximum speed of 4 mph for walking or a slow jog. It also has 12 exercise programs to choose from to mix up your workout, while the speed is adjusted by a small remote with built-in batteries. Or you can connect your phone via Bluetooth to the SPAX app, which can work as your remote as well.
Under Desk Treadmill
Unlike some other treadmill desks, this option isn't just console-free tread to slide under a desk you already have. The shorter surface provides 55 percent more walkable space than other units, according to the company, has features like a connected app to track steps, distance, calories, and other stats, and a one-touch control setup.
Emily Shiffer
Emily Shiffer is a former digital web producer for Men's Health and Prevention, and is currently a freelancer writer specializing in health, weight loss, and fitness.
This content is created and maintained by a third party, and imported onto this page to help users provide their email addresses. You may be able to find more information about this and similar content at piano.io