Trending Medical and health breaking news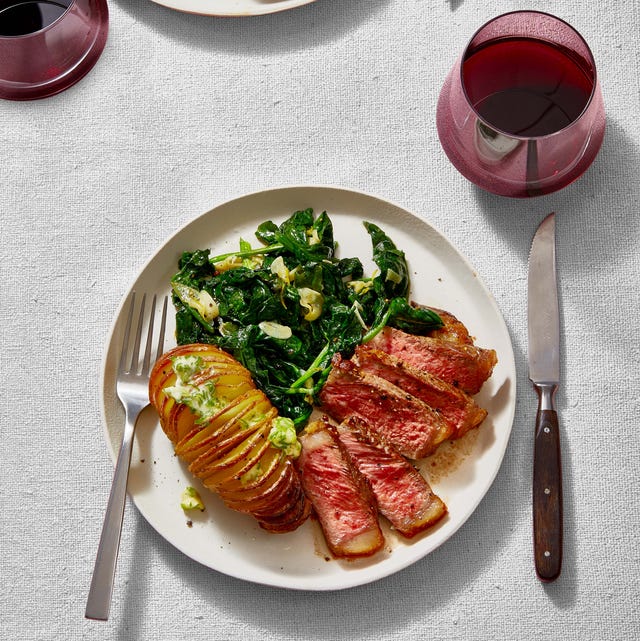 Mike Garten
Thinking about dinner reservations vs. dining in for Valentine's Day? Allow us to make that decision easy for you — with these delicious Valentine's Day dinner ideas, you'll be able to create an easy and romantic meal right at home. And hey, food is the fastest way to the heart, right? You'll really wow your sweetheart by going the homemade route with one of these Valentine's Day recipes, from simple dinners for two to impressive feasts that make delicious leftovers. Plus, cooking with your Valentine turns dinner into a fun and romantic activity that'll soon become a cherished tradition. Learn how to make pasta together or truss a whole chicken or turkey breast. Create classics like spaghetti and meatballs and meatloaf, or try something you've never cooked before (slow roasted salmon, anyone?)
All of these Valentine's Day meals are easy enough for any home chef, whatever the skill level. Some are heavy on the comfort (creamy, cheesy pasta bakes), others are hearty enough for the carnivore in your life (we've included all our favorite steak recipes), and a few will bring out your creative side by pulling inspiration from international flavors and cuisines. Whichever dish you choose to prepare, you'll be sure to make your dinner date swoon — and ask for seconds. But if you really want to mimic a restaurant experience right at home, make it a three-course dinner by pairing it with an easy appetizer and a Valentine's Day dessert that's as sweet as your partner.
1 of 55
Beef Wellington
Tender, juicy beef wrapped in puff pastry is so good, it's the perfect start to a romantic evening.
Get the recipe »
2 of 55
Beet Fettuccine with Hazelnuts and Goat Cheese
3 of 55
Chicken with Sautéed Apples and Mushrooms
Sear chicken on a bed of cremini mushrooms and Gala apples for the perfect bite of sweet and earthy flavor.
Get the recipe »
4 of 55
Tomato Tagliatelle with Chorizo and Olives
Does your Valentine like a little spice? Serve up this super flavorful number.
Get the recipe »
5 of 55
Everything Bagel Salmon
A homemade blend of poppy seeds, toasted sesame seeds, dried garlic, dried onion, and salt adds bold flavor to an otherwise classic entrée.
Get the recipe »
6 of 55
Vegan Lasagna
Got a vegan Valentine? Serve up a comforting meal you both can enjoy.
Get the recipe »
7 of 55
Air Fryer Stuffed Chicken
Cheese and herb stuffed chicken wrapped with prosciutto looks like a fancy dinner, but it's actually easy to make in the air fryer.
Get the recipe »
8 of 55
Gluten-Free Spaghetti With Clams and Bacon Crumbs
Have fun on Valentine's Day making gluten-free spaghetti that tastes like the real thing!
Get the recipe »
9 of 55
Shrimp Curry and Rice
For a dish that's just as colorful and complex as your love story, go for this one-pot dinner flavored with ginger, garlic, and curry powder.
Get the recipe »
10 of 55
Pasta with Vodka Sauce
You can't go wrong with a classic, especially when it calls for heavy cream, grated Parmesan, and a splash of vodka.
Get the recipe »
11 of 55
Grilled Hanger Steak with Charred Broccolini
12 of 55
Ricotta Gnocchi with Toasted Garlic & Walnuts
Take the extra time to make gnocchi from scratch to really steal your valentine's heart. Don't worry, it only takes an hour from start to finish!
Get the recipe »
13 of 55
Skillet Roasted Chicken
There's nothing more romantic than a whole roast chicken for Valentine's Day dinner.
Get the recipe »
14 of 55
Sheet Pan Fish and Vegetables
This one proves that you can have a delicious, elegant dinner in less than 30 minutes.
Get the recipe »
15 of 55
Roasted Pork Chops and Pears
16 of 55
Spaghetti and Air Fryer Meatballs
You and your Valentine will love this classic (made even easier in the air fryer!)
Get the recipe »

17 of 55
Roasted Feta Shrimp and Polenta
Creamy polenta, feta and juicy shrimp creates a dynamite combo that would make anyone fall in love.
Get the recipe »
18 of 55
Crispy Pork Noodles
Add zing to Valentine's Day dinner with tongue-tingling Szechuan peppercorns.
Get the recipe »
19 of 55
Soy-Glazed Meatloaf
Dress up this classic comfort main with a homemade glaze, made with an umami-rich soy sauce.
Get the recipe »
20 of 55
Instant Pot Pork Ragu
You don't have to roast a pork shoulder in the oven all day to make this crowdpleaser — just throw it in your multicooker for 35 minutes!
Get the recipe »
21 of 55
Quick White Bean and Sausage Stew
Serve up a cozy one-pot dinner (in 30 minutes!) for Valentine's Day.
Get the recipe »
22 of 55
Anchovy Brown Butter Linguine with Parmesan Breadcrumbs
Pile lemony breadcrumbs high on flavor-packed pasta for extra crunch.
Get the recipe »
23 of 55
Pan-Fried Chicken with Lemony Roasted Broccoli
This pan-fried chicken dish is delicious, healthy, and easy to make — what more could you ask for?
Get the recipe »
24 of 55
Fennel Pasta Pomodoro
Fennel seeds add a little extra flavor to this classic tomato sauce.
Get the recipe »
25 of 55
Hasselback Potatoes and Garlicky Spinach
Everyone loves steak and potatoes, but your valentine will be even more impressed when you serve a juicy steak alongside hasselback potatoes and garlicky spinach.
26 of 55
Gingery Pork Meatballs
Part tang, part spice: Pack in the flavor by adding lime zest, jalapeño, and garlic to the meatball mixture.
Get the recipe »
27 of 55
Mini Meatballs with Garlicky Tomatoes
Because meatballs are definitely the way to anyone's heart. Plus, you can use a baguette to give them a sweet extra crunch.
Get the recipe »
28 of 55
Steak with Grilled Green Beans, Fennel & Farro
Eat a fancy steak dinner right at home. Dress up, dress down — it's your call.
Get the recipe »
29 of 55
Sweet Pea Risotto
Sweet peas for your Valentine! This risotto recipe is 100% creamy goodness.
Get the recipe »
30 of 55
Grilled Shrimp with Charred Peppers and Queso Blanco
If there's anything you love more than your beau, it's probably queso. Shh, we won't tell.
Get the recipe »
Hannah Jeon
Editorial Fellow
Hannah is an editorial fellow at Good Housekeeping, where she loves to cover home, health, entertainment, and other lifestyle content.
Samantha MacAvoy
Samantha MacAvoy is the Editorial Assistant on the Good Housekeeping food team, where she writes about tasty recipes from the Test Kitchen, must-try food products and tools, and top-tested secrets for home cooking success.
This content is created and maintained by a third party, and imported onto this page to help users provide their email addresses. You may be able to find more information about this and similar content at piano.io